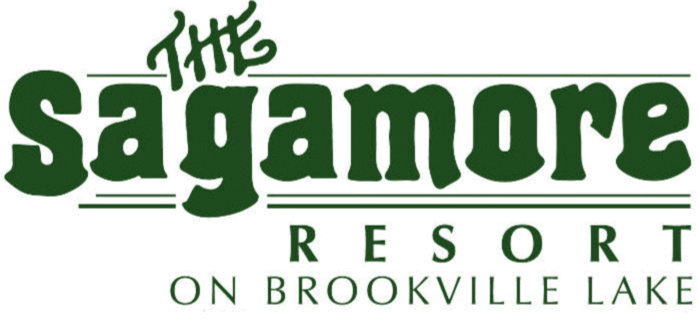 The Cottage
---
For guests wishing for a more unique and exclusive family or group experience, consider staying in The Cottage.
The Cottage provides a commanding, panoramic view of Brookville Lake, exclusive to its guests only. Relaxing guests can watch extended sunsets over the lake from the two cottage floor levels, the upper porch and the lower terrace.
The Cottage provides guests with more space, convenience, and amenities than three of our 2-Bedroom Condos put together, with total privacy. A high ceiling great room and stainless, full kitchen with island greet you as you enter the front door, the lake framed immediately in front of you through glass doors at the far end of the room. The center piece of the great room is a stone fireplace with big screen TV above.
Each of the four 360 sq. ft. upstairs bedrooms features a unique skylight ceiling and is set up with two queen sized beds. Each bedroom has its own spacious bathroom equipped with a 6 ft. wide walk-in shower. Downstairs there are two bedroom/baths which share a generous foyer and terrace entry. Each bedroom is 460 sq. ft. and also features two queen sized beds.
Just outside find your personal campfire ring and access to our shoreline hillside hiking trail.
---
Accomodates: 12-24
Size: 3,250 sq. ft.
Beds: 6 Bedrooms with (2) Queen Beds in Each
Large Deck & Large Patio Overlooking the Lake (680 sq. ft. of outdoor space)
(6) Full Bathrooms
Large Living Space
Accessibility: The cottage may be accessed on both levels via a paved sidewalk. Stairs are not required to enter either level. An upstairs bathroom was built to meet ADA requirements.
---
Call to reserve: (765) 458-7431 ext. 221
---
A/C
Shower
DirecTV
Wifi
Towels & Linens
Waterfront
Electric Fireplace
Full Kitchen
Private Firepit w/ Firewood
Gas Grill
Basketball Goal
Cornhole
Playground
Swimming Pool
---
---
---
4 Bedroom / 4 Bath Cottage Option: Starting at $1,249/night
6 Bedroom / 6 Bath Cottage Option: Starting at $1,795/night
* Discounts available on stays of 3 or more nights. *
All rates subject to state/local taxes and nightly resort fee.
*Call for Discounted Winter Pricing*
The winter season is the perfect time to enjoy the amenities of The Cottage during Brookville Lake's most peaceful time of the year. Use The Cottage for:
*Thanksgiving
*Friendsiving
*Holiday Celebrations
*Winter Outings (hiking, game nights, etc.)
*Watching the game
*St. Patrick's Day
*Easter